2015 TVB Anniversary Awards Thoughts and Red Carpet
Firstly, we would like to apologize for the late post on the TVB Anniversary Awards this year. We have been super busy with the holidays coming up!
We will first talk about the winners this year and our opinions about them. Then we will have a red carpet section to take a look at some of the outfits of the night.


Best Series: Lord of Shanghai
Definitely the best drama of the year. It was amazing to watch and TVB hasn't had too good of
dramas in 2015, so this one was a huge contrast to that. All of the actors and actresses did a great job acting and didn't mess up the drama like how COD was messed up. It was so suspenseful and the characters were just so well written. The drama was so highly anticipated before it came out and thankfully, we were not disappointed! We hope to see more of these dramas from TVB but that seems a bit unlikely from the sales presentation we saw....
Best Actor: Anthony Wong (Lord of Shanghai)
He was no doubt the best actor this year and totally deserves this award. He not only brought his character to life, but worked hard to adapt the script and work with the directors to produce a truly inspiring drama. The only question was whether or not TVB would give it to him from the beginning since he is already an award winning movie and stage actor.
Best Actress: Nancy Wu (Ghost of Relativity)
We are glad that Nancy won over other actresses... namely Linda. Nancy has improved so much over the years that it is nice to see the good results she has gained. Her role in Ghost in Relativity was enjoyable and very compatible when working with Kristal. Nancy did seem like the best choice this
year since all of the top 5 nominated actresses were bad. When they said that Nancy acted for over a
decade to gain a leading female role, we gained all the more respect for her, (unlike some actresses who have acted for a year and already have PLENTY of leading roles!)... we wonder how those select individuals feel after knowing that the REAL winners have working for so long for the opportunity and they are just wasting it away.

Favourite Male Character: Ruco Chan (Captain of Destiny)

We definitely think that this is the best place for Ruco to receive the award. He showed vast improvement in Captain of Destiny than from previous roles and carried the whole series. Of course, when put beside more experienced actors such as Anthony or Wayne, he still lacks the experience. Still, outstanding performance from Ruco and we look forward to seeing him in other dramas. He is
really a keeper for TVB.

Favourite Female Character: Kristal Tin (Ghost of Relativity)

We really liked Kristal's role in the series and she was hilarious. Again, this was a deserved win. It is good that they gave awards to both Kristal and Nancy since it wouldn't make sense if one got an award but not the other. However, a lot of netizens have been complaining about her attitude the
whole night and we think that netizens should really treat this as a show. It's entertainment after all, and she has claimed many times that she was trying to add humour to the show.
Best Supporting Actor: Willie Wai (Lord of Shanghai)

It was actually hard for us to take our pick for the best supporting actor category since there were so
many good candidates. We are thoroughly satisfied with Willie Wai winning this award and think it's well earned. It is nice to see TVB giving out awards not only to the more popular actors but also to people who earned the award by skill. We remember watching him in War and Beauty back in 2004 and he was already a concrete actor, it was a shame that we wasn't put to much use after Jonathan Chik left. Hope he continues to get more opportunities.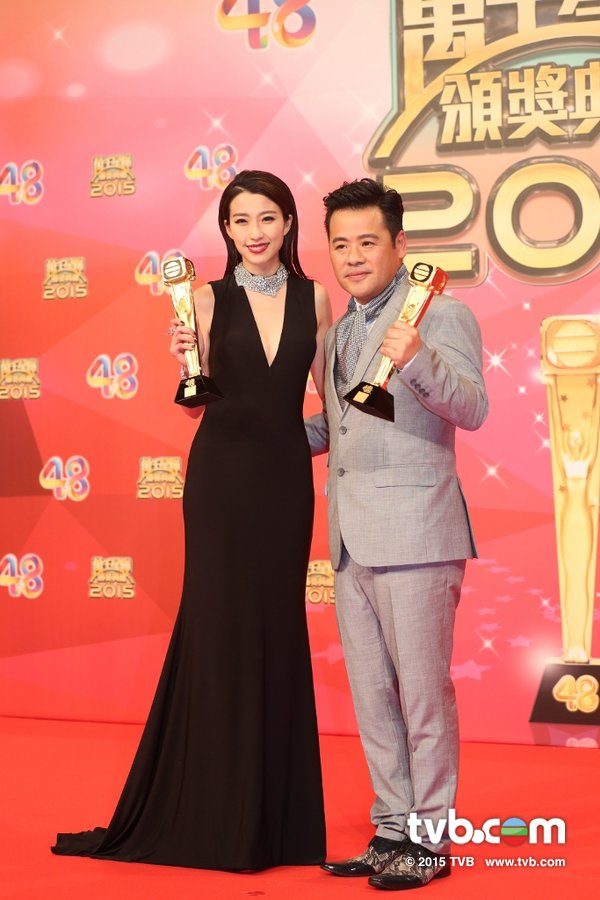 Best Supporting Actress: Elaine Yiu (Captain of Destiny)
Elaine is a very good actress and has shown she can play many diverse roles. We liked her evil role in Captain of Destiny as Consort Yim although we thought it was pretty predictable. Elaine has been in the industry for a while and she hasn't gotten much in the past years, so to see her making progress is nice. She was so emotional because she knows that she's really come a long way. More than anything, this award went to her as sign of recognition.
Most Improved Actor: Tony Hung
We were kind of expecting this win. Tony was alright but we think he is better in Angel In-the-Making now but that sort of counts for next year .... We also thought that he did show improvement
stepping up to be the lead in COD. It is too bad for Matt Yeung since we think he deserved the award
too as he did awesome in his dramas and he's been in the industry for over a decade! How time flies! This award really came down to politics at TVB.
Most Improved Actress: Grace Chan
Also expected even though Grace's acting was not outstanding because of the politics. However, we think that Rosina Lam deserves this award more and has shown actual improvement. Even Tracy Chu and Jacqueline Wong would've been better picks since they've worked for a longer period of time and THERE HAS BEEN IMPROVEMENT. We hope to see Grace's acting improve in the future, because honestly, there wasn't much improvement this year other than her taking part in a lot of stuff. To be honest, her acting kind skills actually became WORSE from Raising the Bar to Captain of Destiny. Don't know how that counts as improvement.


Mainland China Most Popular TVB Series Male Artiste: Bosco Wong
Cool.......
Mainland China Most Popular TVB Series Female Artiste: Linda Chung
This is only because of the amount of fans that Linda has but to be quite honest, she has not shown any good acting qualities as far as we know.
Best Hosts: Liza Wang, Adam Cheng, Jerry Lamb (Sunday Songbird)
Thought that they were relatively good hosts as Adam and Liza took part in singing as well. Jerry
Lamb also kept things on track and made the show smoother. It was a pleasant show and we don't have too much to say about it.
Best Variety and Special Programme: DoDo Goes Shopping
The program was funny and entertaining, although some parts were boring. It was cool to see different shopping areas in England, France, and Australia. Didn't like how Sharon Chan kept saying "CHEAPER PLEASE" when they were in Australia though. The Australia part was just a complete let down.
Best Informative Programme: Big Big World II
No comment since we did not see this.
Best Theme Song: 眼淚的秘密 - Jinny Ng (Empress of China)
Weird enough, this one was actually the award that surprised us the most. Although, the song isn't bad, we just totally forgot about it. We thought that it would either be Alfred's 歲月無悔 or Fred's 揚帆 or even Linda's 一顆不變的心 winning since there was more hype for these songs.
Best Classic Series: The Greed of Man:
This was interesting but we don't have much to say about it once again.
Lifetime Achievement Award: Natalis Chan
We were never a huge fan of Nat Chan but to be fair, he has been with TVB since such a long time and has contributed every year to his shows. ONLY PROBLEM IS... he's just treating this as a joke. He really doesn't care. So we can TOTALLY see where this is coming from. Good for him! PROUD!
Red Carpet Looks:
Best/Nice looks:
Nancy Wu looked great in this long-sleeve glittering, silvery dress, fit for a TVB queen. This is
custom designed by her good friend, Kev Yiu. The stars and embellishments were beautiful. This wasn't just some school girl prom dress, it was mature and inspiring.
Both Ruco Chan and Kristal Tin looked stunning that night. We love Ruco's regal deep purple suit and we like how he paired it up with a bow rather than a tie. But the shoes.. or moccasin looking shoes threw us off. Kristal on the other hand looked great as well. We heard she didn't eat to wear this dress and it is really beautiful and accentuates her curves very well. The blue pendant also really brought out the colour of her dress.
We heard this outfit of Tavia's was super expensive, especially her jewelry. We really like the design of the dress with black floral designs. It is simple but works out well with the jewelry. We think the straps are a bit awkwardly placed but she wears it well.
Eliza Sam was fabulous in this outfit. She finally moved away from the girly dresses to something more mature and the slow cascade of glitter looked beautiful as well. A winning look!
Awkward looks:
Selena Li has definitely worn better gowns than this one. Although we like the ombré pink tulle it's a bit too much and it looks like it's weighing her down. If there was less tulle this would've looked flawless. The choppy cutting of the top part doesn't blend in with the bottom. But really we think this is more towards a great look than anything bad.
Nat Chan: Well. What have we got to say? Is this a school uniform with the crests on the suit jacket? and what's with the pants? The shoes are also very awkward. They look more like slippers.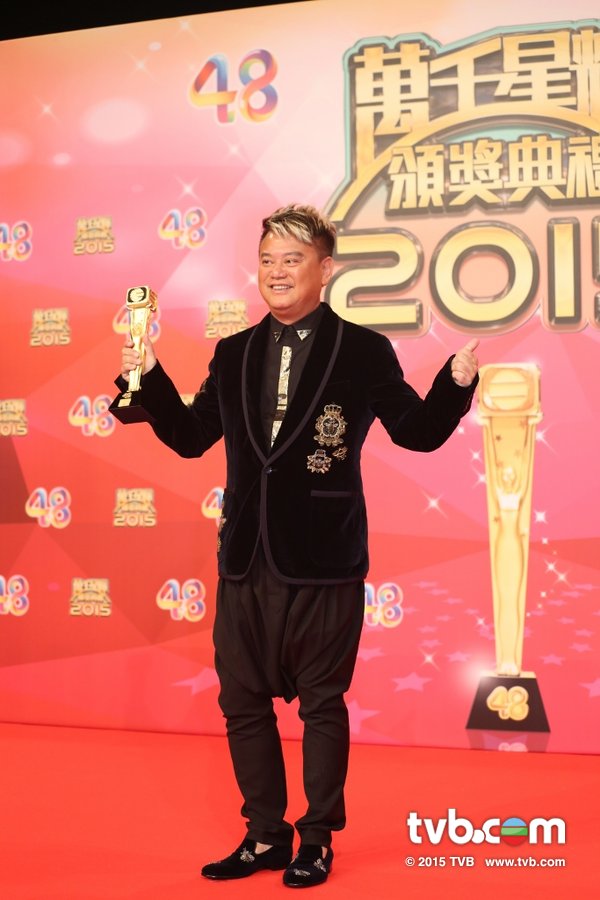 Grace Chan: We know that Grace was super excited about this dress and said she wanted to go for something different but we really didn't like the colour of this dress because it was a bit murky and took away from her youthful charm. As for the cutting, it was just a lot. Way too much draping and mixed up patterns to distract us from her skinny figure. This style just poofed up her body as an illusion.
Jeannie Chan: The pattern of her dress was quite new and we're alright with it? The only problem is that it looks like a beach wrap over her bathing suit and her hair looks right out of the water as well.
Safe looks: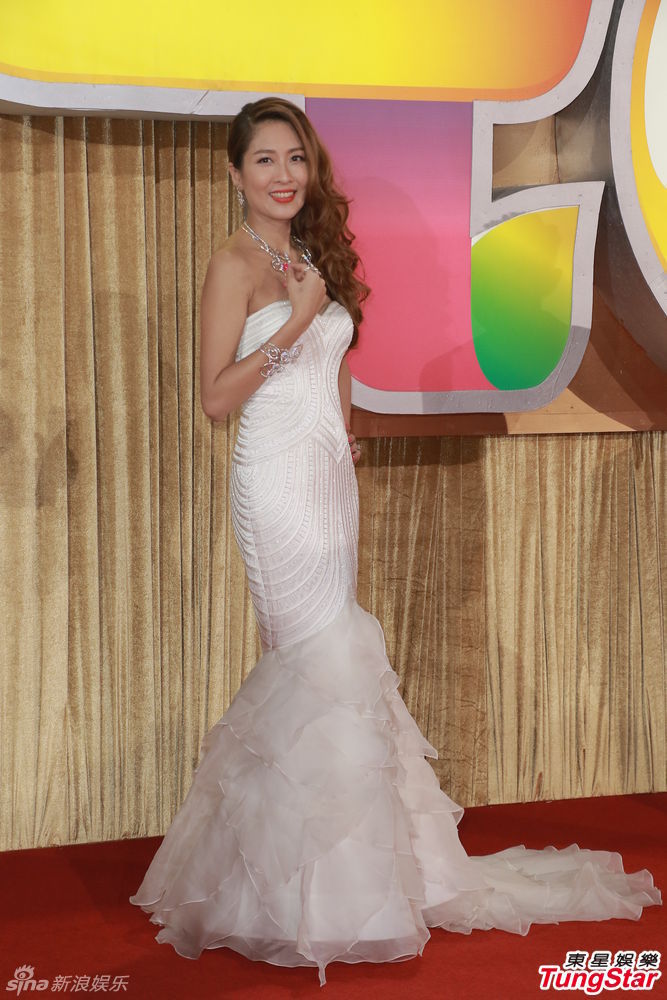 Sharon Chan: She knows she's tall and has a skinny body so she just keeps going for these dresses because they're safe. Also, she wore white last year again... still on her wedding phase? At least no legs this time?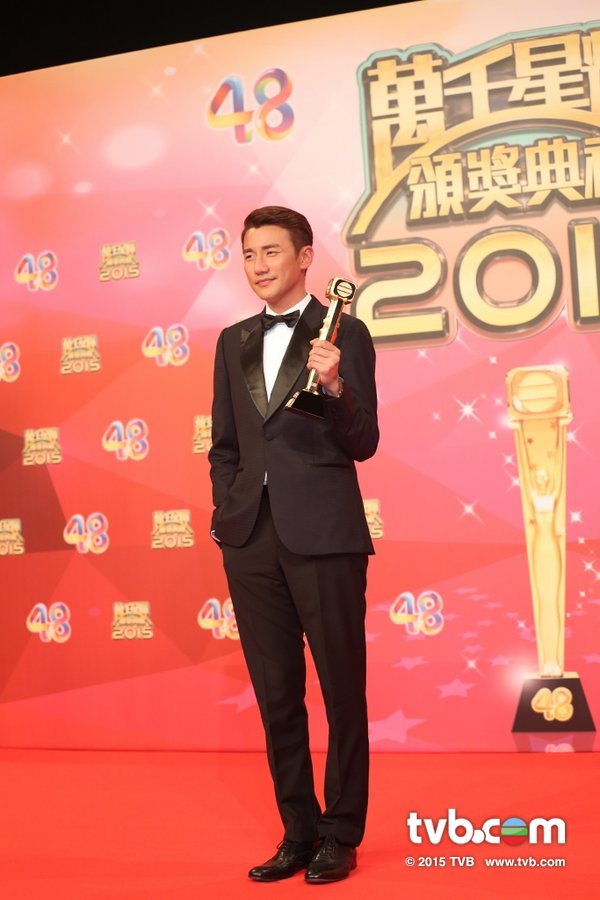 Tony Hung: Although Tony looks quite good dressed up, we think the full black is a bit on the dull side of things. We liked his suit at the Starhub TVB Awards better than this one.
Wayne Lai: Same comment as Tony Hung, a bit dull.
Carol (DoDo) Cheng: Wearing her go-to designer Dorian Ho, Dodo never fails to look underdressed. But this time, it's on the safe side with the monochrome colour scheme.
Nasty looks: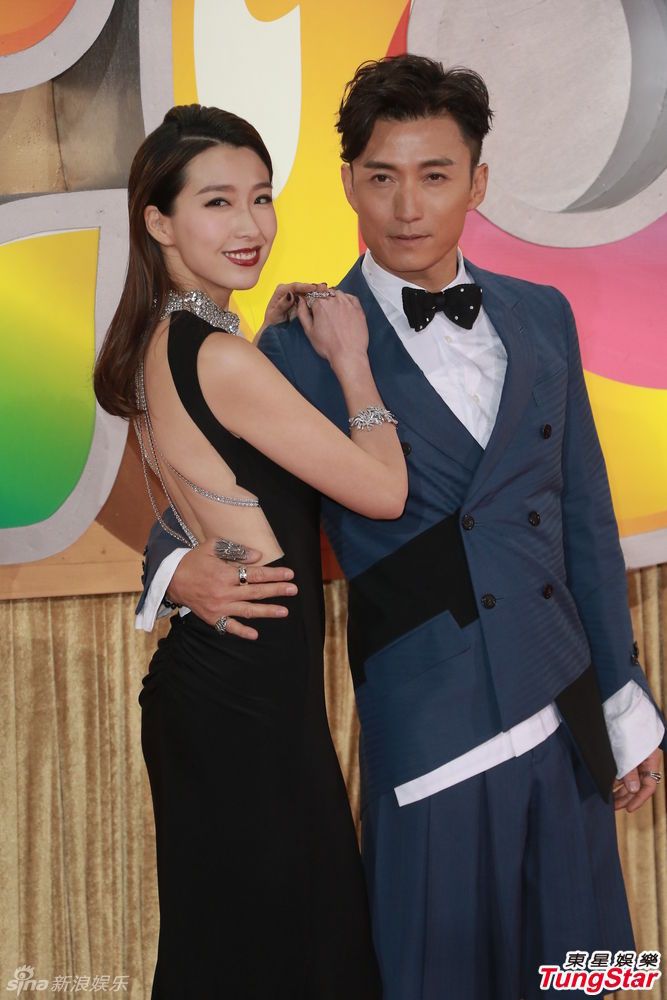 Joel Chan: uhm.. well, we'll ignore Elaine Yiu because we think she looks great but this was the only picture we could find of Joel Chan. What style... From the mis-matched cutting of the suit to the kilt like bottom. And what are those? Sandals? The socks are coming through. Disastrous.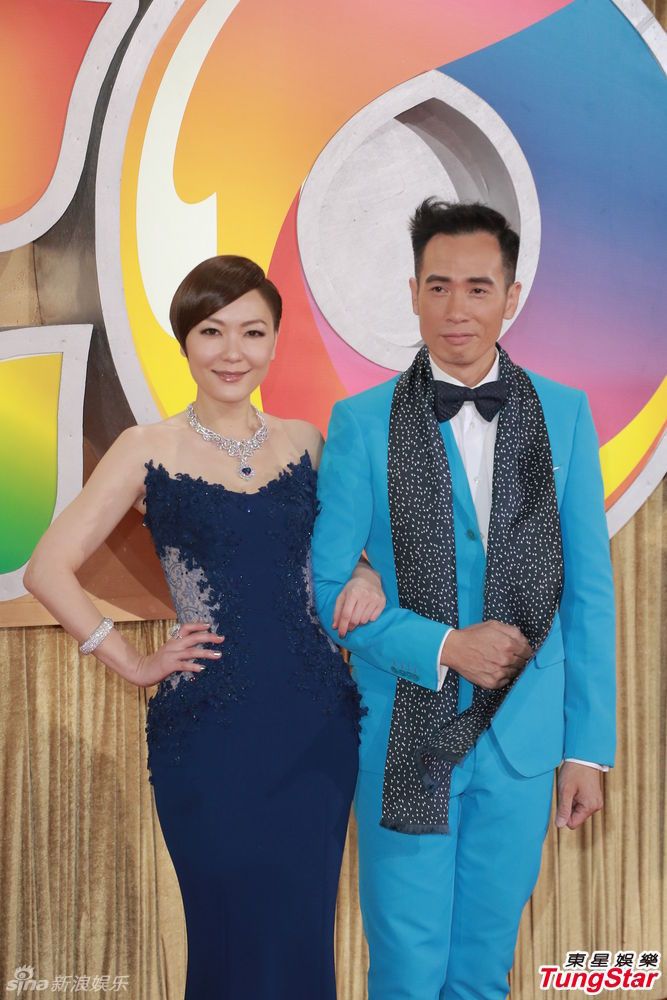 Moses Chan: Nice.. Street style? Oh, just the shoes. Better prepare for the winter with that scarf and the bright blue suit just looks silly. This is too much.
Linda Chung: And to say that she looked beautiful? Come on! This is another cheap beach wrap like Jeannie Chan. It was not elegant at all and she really gave up all her effort into looking better since she's been losing her BA award for seven years! This look was disappointing..
Kenneth Ma: Oh no! Just like Linda, he's now hopeless for the TV King award. All he cares for now are intimate scenes. Are we right? And this is just a bath robe... with black on top.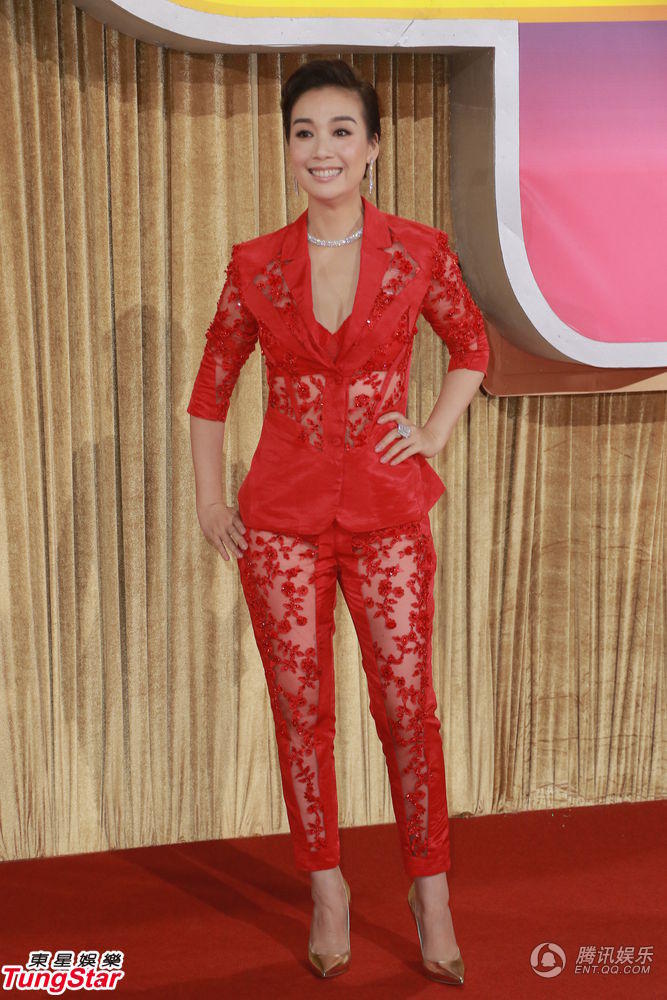 Elena Kong: Must've been comfortable for her that evening. Better ask Moses to borrow that scarf for her thighs! What's with the undergarment theme this year at TVB? Elena Kong being red and ... hot? WONDER WHAT THE BEHIND LOOKED LIKE ;) full on lace? or a bit of cover up haha.
Thanks for checking this out as always! And we'll have more coming up! Let us know your thoughts on this year's awards and fashion. Happy Holidays everyone!

Also, we have kept the sources on the pictures like TungStar or from TVB.com.


-CeeJay